Daikin FIT vs. Cube-Style Heat Pump: What's the Difference?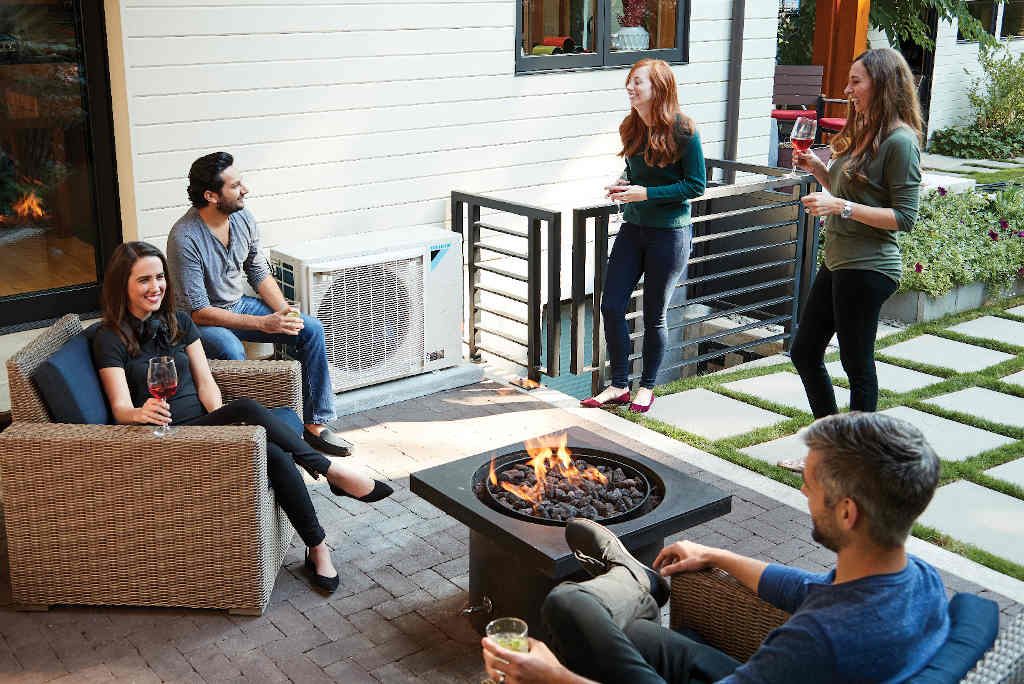 What's the difference between the Daikin FIT and traditional, cube-style heat pumps?
To understand the difference between the Daikin FIT heat pump and the traditional, cube-style heat pump systems, you first need to understand how heat pumps work. Ductless (mini-split) and ducted heat pumps heat or cool your home by circulating air over coils with refrigerant in them. This refrigerant cycles from the outdoor unit to the indoor unit, where a motor and fan will blow the warm or cool air into your living space.
One of the main components of both ducted and ductless heat pumps is the outdoor compressor unit, which is responsible for expelling heat during the summer to cool your home and bringing heat indoors during the winter.
The most noticeable differences between these cube-style heat pumps and the Daikin FIT are the size and sound of the outdoor compressor unit: the FIT is smaller, and quieter. The FIT system is designed with inverter (variable-speed) technology, which allows it to regulate the temperature more consistently than a traditional heat pump unit, which operates with single- or dual-speed compressors. This is where some major benefits can be gleaned in terms of energy efficiencies and personal comfort.
Inverter vs. Non-Inverter Heat Pumps
Conventional heat pumps operate at maximum capacity until the desired temperature is reached, and then they shut off completely—just as you would operate a light switch. The Daikin FIT heat pump, on the other hand, is designed with inverter technology and runs continuously at a desired temperature. Instead of a light switch with a simple on/off feature, the inverter unit adjusts the outdoor compressor's speed to meet your desired temperature—like a dimmer on a light switch. The result? You only use as much power as you need at a given time.
Another helpful way to visualize how inverter technology regulates temperature fluctuations and reduces energy inefficiencies is the cruise control function on a car: you'll get better gas mileage by engaging cruise control versus manually pushing the gas pedal and tapping on the breaks to maintain your speed.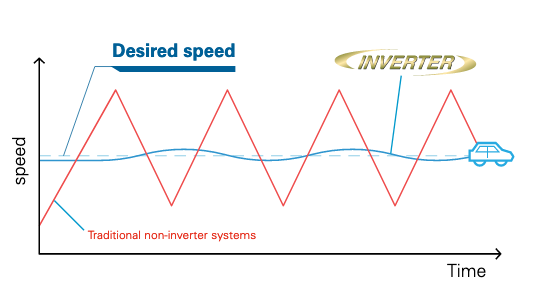 Another breakthrough with the FIT heat pump is its compatibility with pre-existing household heating setups. Ductless heat pump units are often installed in homes with electric baseboard heating and ducted units in homes with pre-existing ductwork. The Daikin FIT marries the best features of the ductless system while also being able to connect to ductwork, so homeowners can connect the FIT to a furnace or central air conditioning system.
Is the Daikin FIT for you? Consult a certified Daikin Comfort Pro dealer near you to discuss how the Daikin FIT heat pump system can improve your home heating setup.
Four Ways the Daikin

FIT

Outpaces the Traditional HVAC Box

What other benefits could you see with the Daikin FIT? Here are four we're excited about that highlight space-saving, budget, and comfort:
Fits into smaller spaces:

Conventional, cube-style heat pump systems are bulky and aren't always an option for homeowners with zero lot lines or multi-story spaces where a crane might be required for installment. The slimness of the outdoor side discharge compressor unit versus a conventional top discharge system makes it ideal for smaller spaces and it can be placed on the ground, on a patio, or mounted on the wall.

Won't let cool drafts into the home

: When conventional heat pumps achieve a set temperature, they switch off. When the temperature begins to drop, they start up again, and that's often accompanied by a rush of cold air. Conversely, the Daikin

FIT

runs continuously and maintains a set temperature without letting the winter air inside your home.

Significantly quieter than a cube-style heat pump

: Non-inverter heat pumps tend to make loud noises upon start-up. The Daikin

FIT

runs continuously and only produces 25% of the noise of their traditional counterparts. The

FIT

produces sounds as quiet as 56 A-weighted decibels (dBA)—a regular conversation is around 60 dB(A). To compare, a non-inverter unit can average 73 dB(A), which is almost as loud as a vacuum cleaner: 75 dB(A).

Lower electrical consumption compared to non-inverter systems

: Atlantic Canadians

spend the most

on household energy bills. With the Daikin

FIT

's inverter technology running the heat pump continuously at the right temperature vs. a cube style heat pump that runs "full throttle" power, starting and stopping all day, homeowners can expect to see a 30 percent savings in electrical consumption overall compared to non-inverter HVAC systems. Additionally, this elevated level of temperature regulation prevents humidity from entering the home and keeps the air fresh.
Your neighbours will be grateful you chose to install such a quiet heat pump—but you'll be more impressed with having the lowest energy bill on the block! Learn more about what your monthly energy bill could look like by contacting your local certified Daikin Comfort Pro dealer today.
Download the Daikin Fit Brochure
The new Daikin FIT system is designed with energy savings, comfort, and dependability in mind. Learn more about the differences between the new Daikin FIT system and traditional cube-style heat pumps and whether the compact size of the Daikin FIT and a mid-efficiency inverter heat pump is right for your home. Download the Daikin FIT brochure.