How To Start Your HVAC-R Career With Daikin Atlantic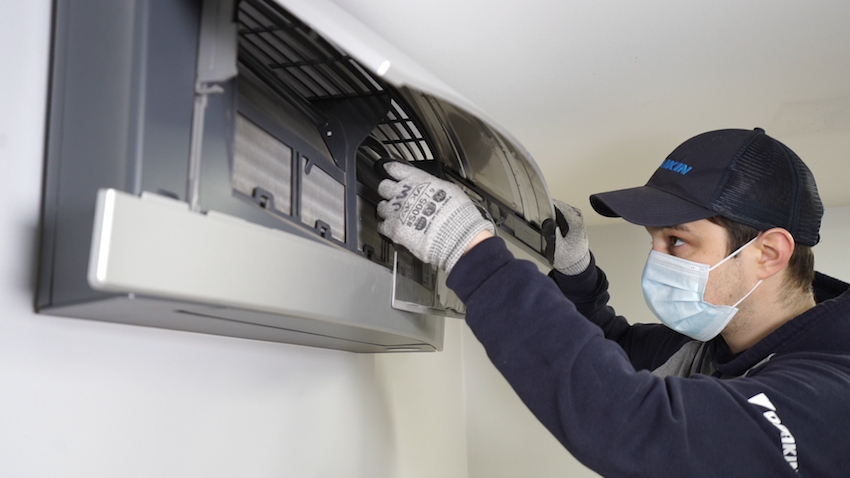 Learn the steps you can take on your career path that will lead you to an exciting and rewarding career in HVAC-R and climate control technology with a Daikin Atlantic dealer!
Working in the HVAC-R industry can mean a variety of things considering it includes (and an acronym for) heating, ventilation, air conditioning, and refrigeration. While some focus on residential heat pump installation and maintenance, another might focus on commercial refrigeration projects.
Gauge Your Interest in the HVAC-R Industry
First of all, inherent interest in working with your hands and learning new skills is a must when considering any trade.
When it comes to HVAC-R, 3 things stand out that Technicians enjoy about the industry:
New technology is always being developed to improve things for Technicians, end-users, and the environment

High demand with no signs of slowing means a stable career outlook

Different challenges are rewarding when problem-solving a solution
Not only is the demand for heat pumps skyrocketing, but HVAC-R—as part of building automation systems—causes the need for highly skilled Technicians on all new commercial construction projects.
Listen to Peter describe his career path from working in the oil fields in Western Canada to moving back to Nova Scotia to start a new career in HVAC-R.

Apply to Learn HVAC-R Skills
Wherever you are in your career path—just graduating or having 20 years of working experience—it's always a good time to learn a new skill.
Most people who have identified a passion for hands-on work that aligns with HVAC-R, start out by applying to the program at their local college. This is not always called 'HVAC-R'. For example, at NSCC it's called the 'Building Systems Technician' program.
When you apply, be sure to ask the training institution about potential scholarships or grants available to you. For example, Daikin Atlantic has a scholarship program with NSCC for second-year students.
Begin an Apprenticeship with a Daikin Atlantic Dealer
Partnering with a Daikin Atlantic dealer to employ you as an apprentice is essential to your career path as an HVAC-R Technician. They will help you meet your goals to become a Red Seal Journeyperson and develop your skills and expertise. With high demand for skilled HVAC-R employees across Atlantic Canada, a dealer near you is ready to start training you!
Visit our careers page to learn more or contact your local Daikin Atlantic dealer to discuss apprenticeship opportunities.