Compare Energy Savings with a Daikin FIT Heat Pump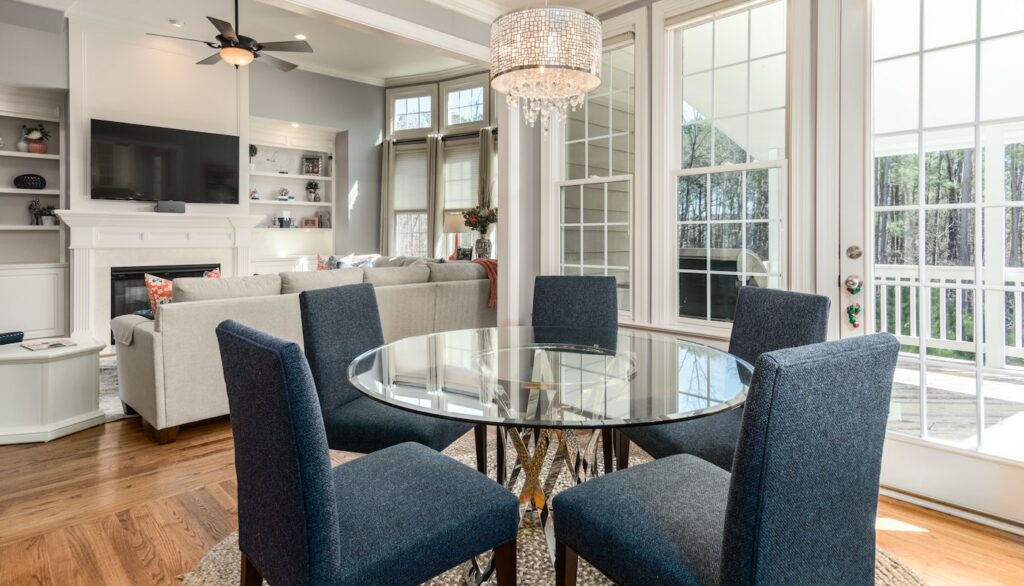 The Daikin Inverter used in the FIT heat pump uses state-of-the-art HVAC technology to provide even more energy savings than a traditional heat pump.
In Nova Scotia, there is a Daikin FIT test site where two similar homes next door to each other both have a Daikin heat pump installed. One has a single-stage DZ16SA installed and the other has a Daikin FIT. Both models are ducted systems with a 16 SEER (Seasonal Energy Efficiency Rating), but only the FIT is using a Daikin Inverter.
The chart below shows an operational comparison between the FIT and the DZ16SA during the same week.

For the week shown in the chart above, the house with the Daikin FIT heat pump had a 52% savings over the house using the DZ16SA. On average, the FIT provides 30-40% savings over a non-inverter heat pump system. A variety of factors including home layout, age of home, and location impact the actual energy costs and savings.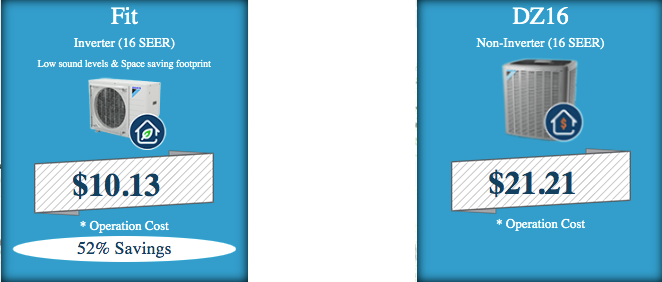 On average, the Daikin FIT provides 30-40% savings over a non-inverter heat pump system.
How a Daikin Inverter Saves More Energy
The power consumption is lower and used evenly in the FIT because of the Daikin Inverter. It uses variable speeds which cool and heat your home by gradually ramping up and down, versus spiking energy as single-stage heat pumps turn on and off. Minimizing temperature fluctuations allows it to reach the set degree faster, reducing energy use.
The Daikin Inverter is an intelligent compressor drive module that allows you to control the environment inside your home based on your space and desired temperature. See the graph below for a visualization of how it works compared to a single-stage unit.
A Daikin Heat Pump That Fits Your Outdoor Space
The Daikin FIT has a slim profile compared to traditional HVAC boxes, making it perfect for zero-lot line homes and multi-storey locations. Combined with the fact that the Daikin FIT is 25% quieter than outdoor non-inverter ducted systems, it makes outdoor living enjoyable no matter the size of your patio, backyard, or terrace.
Take comfort inside or outdoors this year with a Daikin FIT heat pump.
Integrate Your Daikin FIT With Ductwork and Accessories
If you have existing ductwork, the Daikin FIT will integrate with it to provide consistent air quality and comfort throughout your living space.
Daikin heat pumps are efficient and easy-to-use, but the cloud-connected ONE+ smart thermostat makes controlling your indoor temperature even easier and more efficient. Set a schedule on your thermostat or location detection via the ONE Home app to lower energy consumption by reducing the need for heating or cooling while you are not home.
Schedule Your Daikin FIT Heat Pump Consultation
The Daikin FIT is for everyone—whether you are getting your first heat pump or upgrading from a non-inverter or mini-split. Experience efficiency and savings combined with a comfortable home. Contact your local Daikin dealer to learn more if it's right for your living space, or schedule a heat pump consultation and get a no-obligation quote.